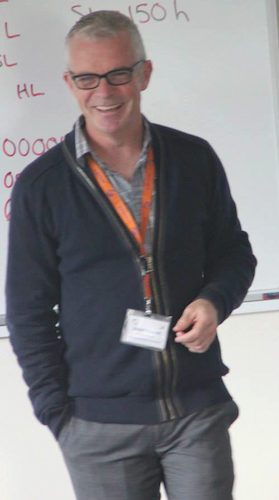 Dan is thoroughly professional and an outstanding workshop leader.
October 2015
M. Helliwell
Flexibility to help out when we need it but stayed focussed on content and logical order.  Genuine and spontaneous interaction. Speedy attempts to put info into action.
M. Ehrhorn
Destination Creativity has come about after long experience on the front lines of education and after many years training education professionals from around the world.
This road to greater creativity and innovation makes stops along the way, including findings from brain science, educational research, creativity and innovation in business, and plain old good practice.
A Destination Creativity workshop is hands-on and interactive, but without sacrificing the content and the science.  Take-aways will include concrete, participant-generated proposals to ensure greater creativity and potential for innovation in your organization.
Workshop objectives for businesses
understand the basics of creativity in the brain

identify impediments to creative thinking

realize the importance of community to enhancing creative potential

manage group work leading to creativity and innovation

understand the role of sleep, play, and downtime in creativity and innovation

consider the impact of environmental and cultural elements of the organization in creativity and innovation

establish a plan to enhance potential for creativity and innovation
Contact us for specifics about our workshop packages.  We offer half-day, full-day or custom-designed workshops.
Destination Creativity offers workshops adapted to your needs and interests.
Is your team stuck in a rut?

Does your programme or curriculum need rejuvenation?

Are you allowing your students to develop their creative potential?

Are you preparing your students for the needs of tomorrow's world?  How do you know?
Our workshops are designed to engage your administrators and educators in creative thinking so that they can do the same for your students.
Workshop objectives for educators:
become familiar with the findings of some of the most recent research in creativity

assess the state of creativity at the school and in the country

consider creativity and innovation as specific learning outcomes

understand some basics of creativity in the brain

identify the factors that encourage and inhibit creative thinking

assess the conduciveness of the learning environment to creative thinking

develop strategies to promote creativity and innovation in the school
Mr. Stewart was an amazingly knowledgable workshop leader.  He guided us with professionalism and collegiality.
October 2015
L. Bourgeois